Protecting Your Business with Wireless Remote Access Surveillance Systems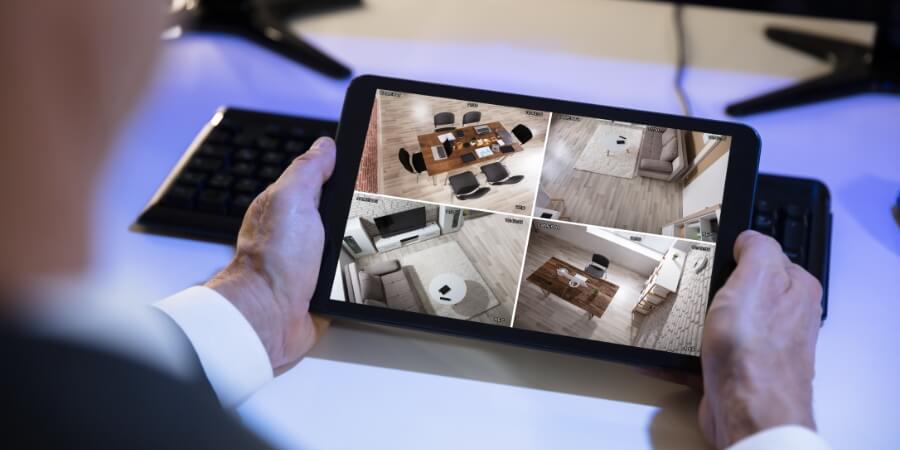 Protecting Your Business with Wireless Remote Access Surveillance Systems
Having a surveillance system is a good layer of protection for a business especially when you can access the system remotely from your mobile device. It allows you the chance to keep an eye on your business 24/7 without having to physically be on the premises. Remote access surveillance systems can be wired or wireless and aren't considered a standard feature on camera systems for business.
What is a Remote Access Surveillance System?
With remote access, you can log in to your surveillance system at any time of the day from your smartphone, laptop, or tablet that has an internet connection. It connects to a private business network, and the VPN allows for a more secure connection.
Wired Versus Wireless Systems
With a wired surveillance system, you will find that there is little to no interference from nearby devices, they provide a more stable data transmission, and can cover several zones of protection which is ideal for a larger business that requires more surveillance coverage.
Hard wired systems are much harder to install and require that holes are drilled to run the wires, and this makes them much less portable. Wireless systems, on the other hand, are easy to install, portable, and much more flexible.
Benefits of Remote Access for Business
Many advantages exist for businesses that choose to utilize wireless remote access surveillance systems. First, they have 24/7 protection and the ability to view live video of their business at any time. You don't even have to be on site to manage the cameras.
Monitor Multiple Locations
It also allows you to monitor multiple feeds across multiple locations so if you require several cameras that span more than just one building, a remote access surveillance system can provide this. It will also help cut down on the amount of false alarms because you can easily confirm if something is happening on your property by simply signing into the app and reviewing the footage.
You can view the images that the motion sensors trigger on the system. There are even systems that allow vocal communication so that you can give an audio warning.
Deter Theft
Remote access systems can also help protect your supplies and other equipment and can be a good deterrent for theft. Want to keep an eye on your employees to make sure that productivity levels are up? A remote access system allows you to monitor your employees as well as your customers.
Monitor Employees and Customers
CCTV offers the added peace of mind that your business is protected and if something does happen, you will have clear video to footage that you can use to prosecute. Having a remote access surveillance system installed for your business can have an impact on your insurance premiums as well.
You are effectively reducing the likelihood for a break-in or other situation with the presence of the surveillance cameras, so you may be able to get a reduction in the amount of your payments each month.